Exhibition
L'Avancée Charlotte Simonnet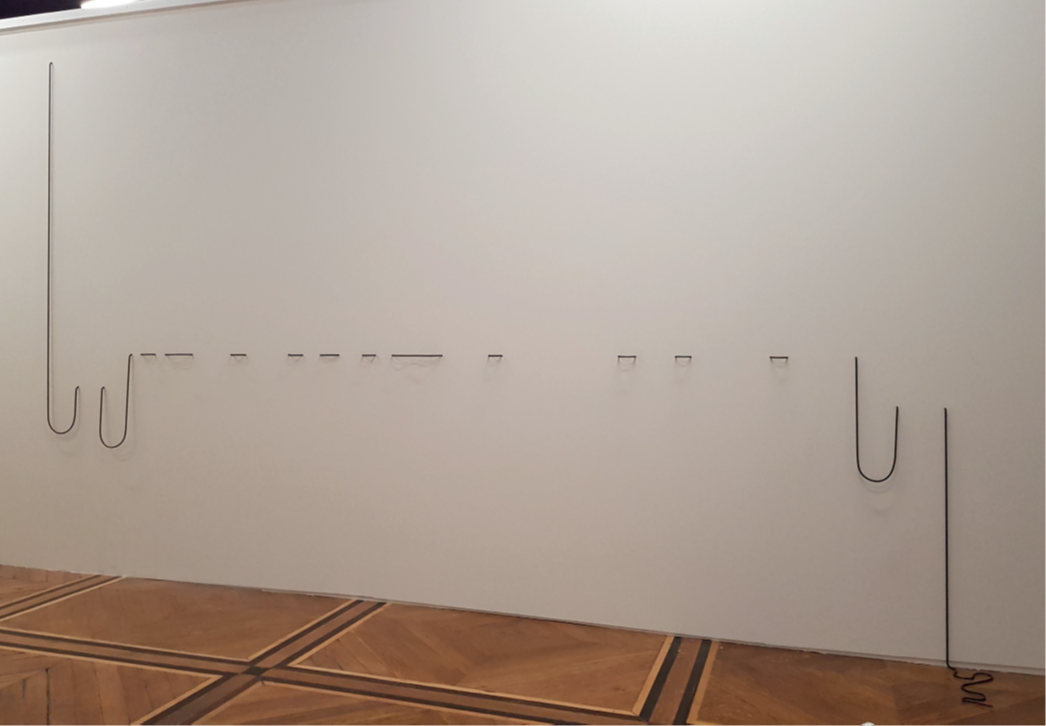 Exhibition
from 16 November 2022 to 8 January 2023
L'Avancée is a hanging wall dedicated to emerging artists and a way to extend the exhibition space into the living space. During the year 2022-23, the Foundation is partnering with the Ecole des Beaux-Arts de Paris and the "exhibition professions" program. Every two months, from October to July, a student will be invited to take over the gallery and to accompany his or her display with an exchange with the public.
For a new collaboration with the Beaux-Arts de Paris, L'Avancée presents during six weeks Charlotte Simonnet's work, a 3rd year student at the Beaux-Arts de Paris from the Tatiana Trouvé studio. As part of this program, she shows her installation Coutures, 2022.
"The work I propose is an installation called Coutures. It is composed of iron imitating the movement of a rope and like sewing, it comes out from the wall, forming loops of different dimensions before falling on the ground. This iron is treated so that it has a black color with purple reflections.
This installation consists of a gesture evoking the construction of a place, of an architecture. It is a question here of building a space as one builds a garment. By coming out of the picture rail, the concrete iron makes visible an invisible form. The gesture of sewing then evokes a way of linking the underside with the top. A game of illusion is created by the contrast between the rigidity of the metal and the rounded and supple forms of a rope.
My sculptures and installations are linked to my interest in ornamentation. This leads me to be interested in the balance of power between useful and futile, and pushes me to approach in my work the notions of dissemination of forms, of contamination. The different forms of ornament, drawing their source from nature, industry, architecture and writing, are in my opinion temporal, social and spatial markers. Their presence reinforces the character of the object to which it is applied. I consider the practice of ornamentation as a language that allows me to create a dialogue between structures and forms. This dialogue created by the ornament is made possible by the accessory character of the ornamental motifs and symbols. It is for me a tool, a precise gesture intended to bring the spectator towards a wider reflection on the relationship that he/she has with his/her environment. These forms, these gestures considered for a long time in the history of art as anecdotal allow me to question uses. Sometimes going beyond the boundaries of my own work, these ornamental forms also allow me to create links between the exhibition space and the forms that inhabit it. »
Charlotte Simonnet
Photo : Coutures, 2022, (c) Charlotte Simonnet