Exhibition
L'Avancée / Lucille Léger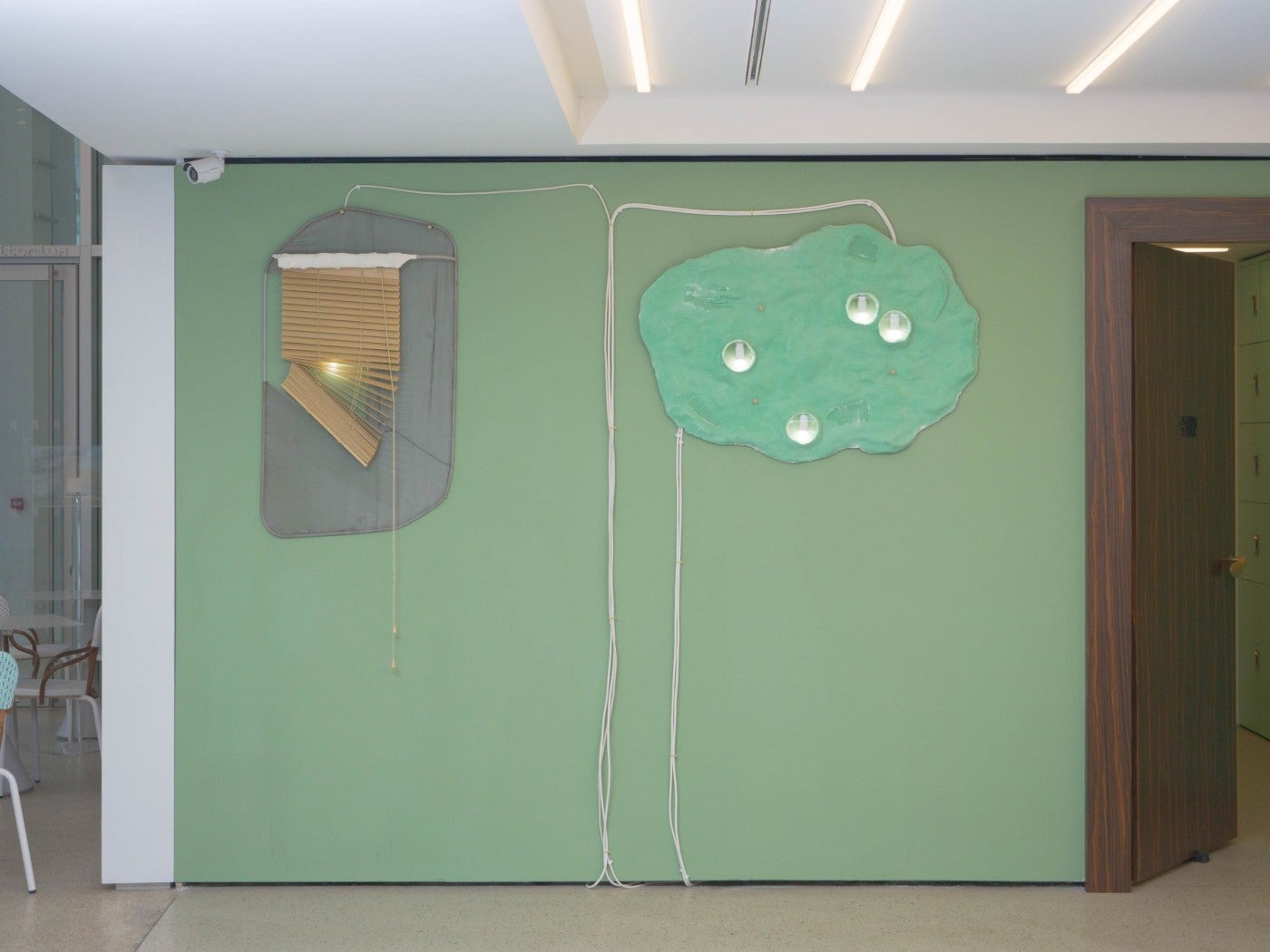 Exhibition
from 12 January to 25 February 2023
Located in the heart of Fondation Pernod Ricard café-library, L'Avancée is a wall dedicated to emerging artists and a way to extend the exhibition space into the living space. In association with the École des Beaux-arts de Paris and the "exhibition professions" program, from October to July 2023, an artist is invited to occupy this gallery for two months. Each inauguration is an opportunity for a privileged exchange between the young artist and the public. Each artist benefits from professional and critical support. With this initiative, Fondation Pernod Ricard reinforces its role in the young artistic scene in France.
"Lucille Leger's installations oscillate between functional sculpture and radical furniture, presenting abstract forms, to which are added contours known for their domestic existence: lamp, curtain, screen... Through plastic hybridizations, the artist offers a materiality and a centrality to the liminal zones, to the in-betweens: between the interior and the exterior, between the private and the public, between the natural and the artificial, between art and the object. His pieces blur the boundaries and are marked by a great porosity with the contexts of production and exhibition. The dialogue is permanent between the space and the work, through the play of luminous contrasts, through transparencies or on the contrary obstructions. By disturbing the ways of perceiving and seeing through, the artist summons the notion of screen, omnipresent but become commonplace in our daily lives.
Using simple gestures of maintenance and care, she brings together recycled materials - a coat rack, textiles - and organic elements - wax or bread, or modules from past works. The materiality of the compositions recalls the flesh, the human tissues and organs, sometimes to the point of sensual textures. The proximity with the body and the instability of its states, the fluidity of its moods, are also manifested in the evolving dimension of the pieces, with for example consumable sculptures when the artist uses candles.
For the Avancée, Lucille Leger exhibits two new pieces in the continuity of existing series. Dayblind updates the sculpture of a Venetian blind, which this time is placed on the wall and loses its function as a window and opening. This situational shift invites us to consider the impasse as a reality, but also as a support for invention and creation. The second work, Flabbergast, is a bas-relief pierced with opercules where illuminated lenses are inserted. It is a miniaturized volcanic world that springs from the wall and contaminates it with a network of electric cables, forming a landscape that literally plugs into the space and changes the experience."
Andréanne Béguin
Image (c) Raphaël Massart