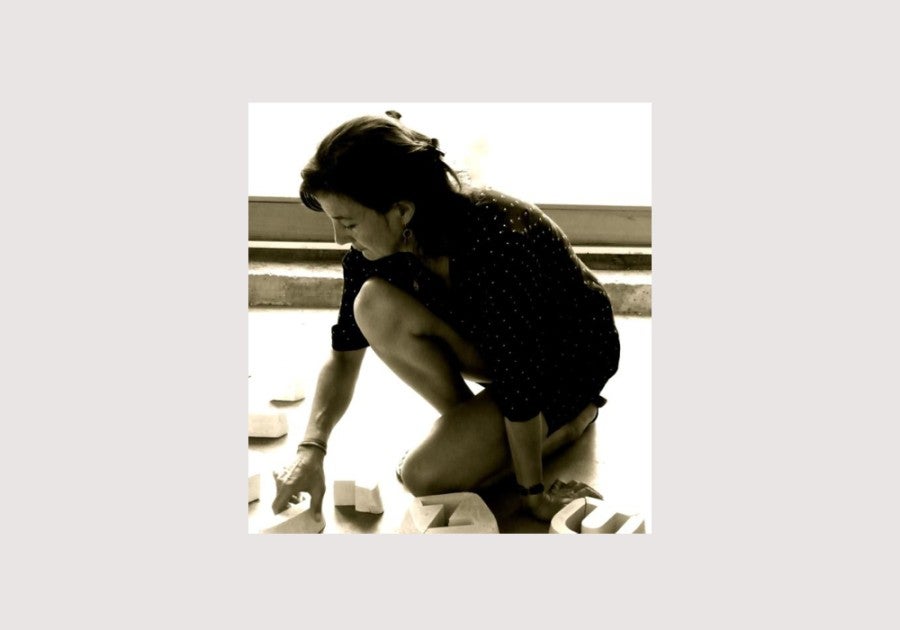 Born in 1962 in Paris, she lives and works between Paris and Ivry-sur-Seine.
Through her paintings, sculptures and installations, the Franco-Swiss artist concentrates her practice around the language that either covers the image or replaces it. The appearance of language in his painting, then in his installations, was driven by his desire to communicate with his autistic brother who did not speak. This dialogue between language and image is fundamental to the work of Agnès Thurnauer, where the letter becomes a painting, a sculpture, a sound architecture and even a space to be explored.
 
Revealed in 2003 by her exhibition at the Palais de Tokyo, she benefits from numerous solo shows and regularly participates in group exhibitions in France, including at the Centre Pompidou (Paris), at the Museums of Fine Arts of Nantes and Angers, at the Musée Unterlinden (Colmar), at the Château de Montsoreau-Collection Philippe Méaille, at the Lyon Biennial; and abroad: SMAK, Ghent (Belgium), Seattle Art Museum (USA), Edgewood Gallery of Yale (USA), CCBB of Rio (Brazil), Cambridge Biennial (UK), Kunsthalle Bratislava, Yermilov Center Kharkiev… Agnès Thurnauer regularly collaborates with writers, philosophers and poets for the realization of publications and artists' books (Michèle Cohen-Halimi, Tiphaine Samoyault, Rod Mengham, Nicolas Donin…). His works are part of many private and public collections (Centre Georges-Pompidou, Musée des Beaux-arts de Nantes, Musée des Beaux-arts d'Angers, Musée Unterlinden, FMAC, FRAC Bretagne, FRAC Auvergne, FRAC Ile de France…).