Benedetta di Loreto
Curator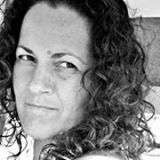 Benedetta di Loreto (born
in 1975 in Italy, lives and works in
Rome) has since 2007 been founder and
chief curator at qwatz, artist in residency program. She has collaborated with
institutions and foundations for qwatz's projects and for independent projects.
She has also worked with the design company Adele-C, Ateneo Impresa business
school, 1:1projects, WPS1/MoMA, Baruchello Foundation, and the Pistoletto
Foundation. She collaborated and collaborates with Flash Art, Arte&Critica, CURA., Tema Celeste.
She attended the Curatorial Training Program at Le MAGASIN, Grenoble, and
graduated at La Sapienza University in Rome.