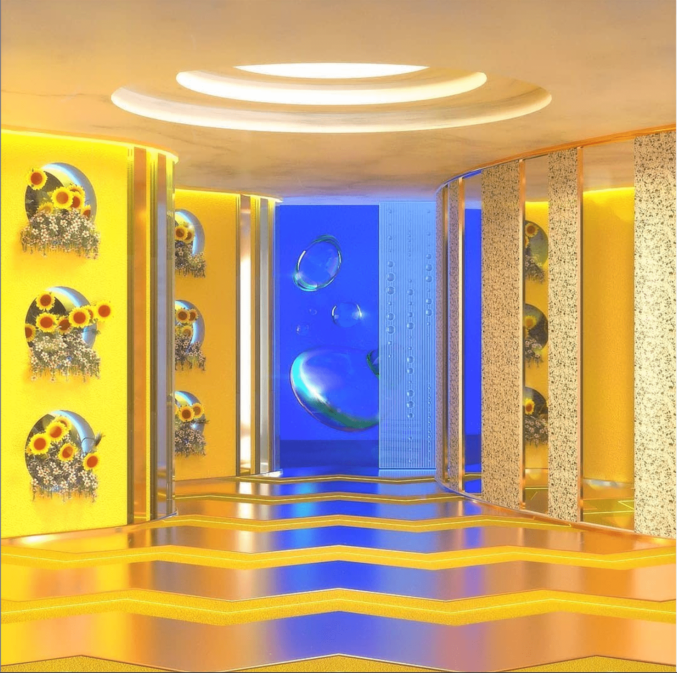 Charlotte Khouri (1985) creates sets, accessories and texts in order to perform in front of a camera or in real life.
 
Her performative practice anchors itself in her painting of graphical patterns and her creation of stage accessories. Using her voice, she activates a ghostly link between forms and subjects, thus making them either the witnesses or the basis of a theatrical intimacy with the spectator, or perhaps a personified object. By shifting images, figures, or pre-existing architectures to the scale of her body, she is re-appropriating a dominant historical and cultural continuum through humorous set-ups.
 
After having attended the Ecole supérieure des Beaux-Arts de Marseille, and the Haute Ecole d'art et de design de Genève, Khouri took part in the Salon de Montrouge 2019. On Anne Le Troter's invitation, the pair wrote and staged a dozen of plays at the Centre d'art de Saint Nazaire – le Grand Café, at the Frac Champagne Ardenne and at the Nanterre-Amandiers theatre as part of the Poltergeist program. Between 2019 and 2020, she was a resident at La Galerie, Centre d'art contemporain de Noisy-le-sec, where her first personal exhibition was held, Dauphins, Dauphine. During that same season, she has been leading workshops on the theme of general culture and tele-visual information at the Fondation Lafayette Anticipations.