Jean-Claude Ruggirello
Artist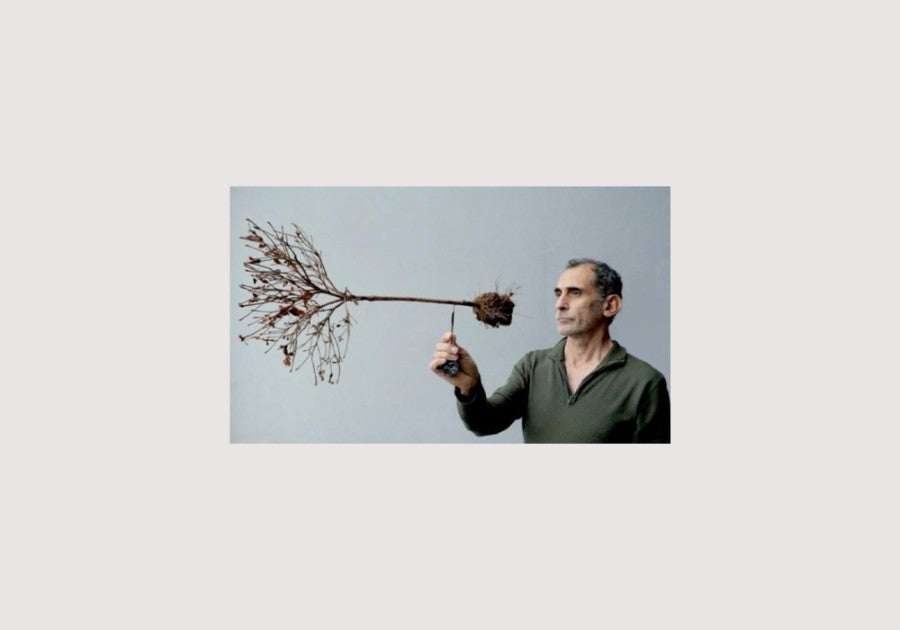 Born in 1959, Jean-Claude Ruggirello studied at the Hochschule für Bildende Kunst (HFBK) in Hamburg and at the Beaux-Arts in Marseille. He lives and works in Paris and Marseille.
From the outset, his video works have not been defined as cinematic or narrative pieces, but as sculptural hypotheses considered in a spatial interaction. Within this process, image and sound are considered potential sculptural materials. His first works were shown in 1987 at Galerie Eric Fabre, Paris. A large part of Ruggirello's early sculptures are created from extremely diverse materials — a cricket farm in U and I, shown at Galerie de Paris in 1988; sound frequencies in Soft Machine (1989), shown at the Musée de Blois; or taxidermized bees revealing a sonic footprint in Pink Noise (1991). The diversity of materials and forms used by the artist questions the volatile territories of sculpture.
Jean-Claude Ruggirello regularly exhibits in France and abroad (Swiss Institute, New York; MUHKA, Antwerp; Musée des Beaux-Arts, Dijon; Frac Aquitaine, Bordeaux; Musée des Beaux-Arts, Nantes...). He has had several major solo exhibitions, notably at the Frac Sud - Cité de l'art contemporain and the Centre d'Art Contemporain de Neufchâtel (2000) and at the Creux de l'Enfer, Thiers (2004).
His videos are regularly selected during international festivals and presented in many places (MAXXI Rome, Fresnoy, Pernod Ricard Foundation, International Film Festival Rotterdam, Nam June Paik Art Center South Korea, Maeght Foundation). His works have integrated many public collections as well as important private collections, and he is among the artists referenced in the book 20 ans d'art en France under the direction of Marjolaine Lévy and Michel Gauthier, published by the Fondation Pernod Ricard (Ed. Flammarion) in November 2018.
Since 1999, he has been teaching at the Beaux-arts de Marseille and the Gallerie Papillon has represented his work since the early 2000s.
In 2022, Galerie Papillon presented "Lingua Morta", his fifth solo exhibition at the gallery that showcased nearly 40 years of work. That same year, he participated in the exhibition "Végétal. L'école de la beauté" organized by Chaumet at the Palais des Beaux-Arts in Paris.