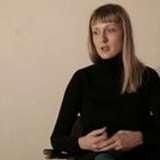 Jelena Vesić (born in 1974, lives and works in Belgrade) is an
independent curator, writer, editor and lecturer. She was co-editor of Prelom
– Journal of Images and Politics (Belgrade) in 2001-2009 and co-founder of
independent organization Prelom Collective
(Belgrade) in 2005-2010, active in the field of publishing, research and
exhibition practice that intertwines political theory and contemporary art. She
has also been co-editor of Red
Thread – Journal for social
theory, contemporary art and activism (Istanbul) since 2009 and member of
editorial board of Art
Margins (MIT Press).