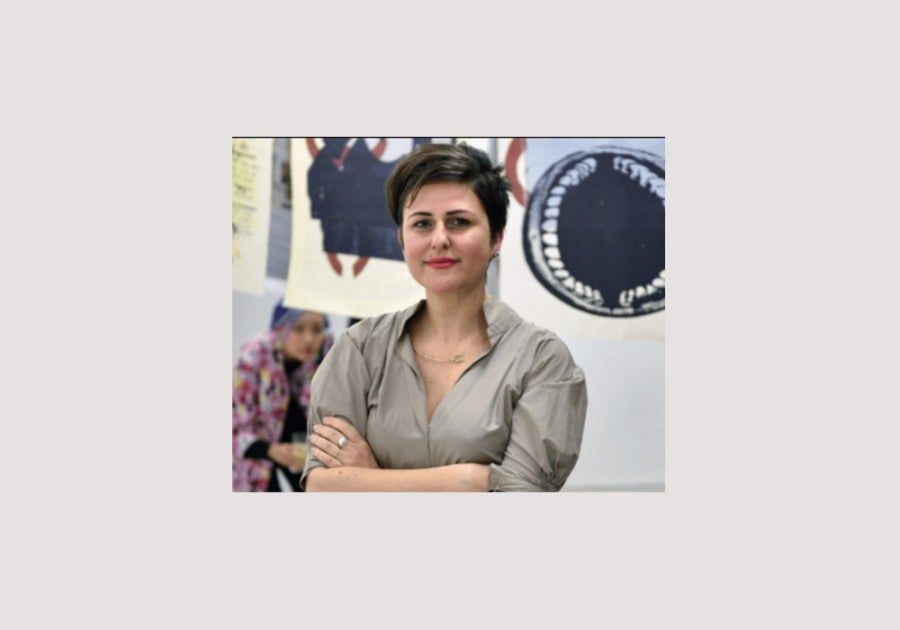 Born in 1976 in Lisbon, Joana Neves is an art critic and curator
After having completed her Master in curatorial studies at the Fine Arts University of Lisbon in 2002, she was appointed as video curator at the C.A.V. (Coimbra, Portugal) where she worked with Maria Lusitano and Gabriel Orozco, amongst others. In 2003, she became co-director of the Chantal Crousel Gallery in Paris where she worked until 2005. She became a free-lance curator and organised the first solo exhibitions outside of France of the French artists Gyan Panchal and Evariste Richer (in Lisbon, Sala do Veado and Vera Cortês Agency and Aveiro Biennal); the show Utopomorphies at Galeria António Henriques in Viseu, Portugal, with Karina Bish, Nicolas Chardon, Diogo Pimentão, Julien Prévieux, Raphaël Zarka, amongst others. In 2007, Nathalie Giraudeau invited her to co-curate a two-folded show at CPIF, Pontault-Combault, titled Morel's Island. Drawing its inspiration from Adolfo Bioy Casarès' book Morel's Invention, and with Sabine Hornig, Daniel Malhão, Manuela Marques, Jean-Luc Moulène, Paul Pouvreau, Evariste Richer and Raphaël Zarka the show explored the correlations and exchanges between physical and photographic space. In the same year she started a part-time collaboration with schleicher+lange gallery in their Parisian space that lasted until 2010. In 2008 she organised a show, Tongue-Twister, focusing on language-based riddles as a formal structure with Paul Harrison & John Wood, Alexandre Gutke, Ricardo Jacinto, Gyan Panchal, and Diogo Pimentão at Vera Cortês Agency. In 2010 she was the appointed curator at Orange Rouge – a structure that stimulates collective creation through collaborations between artists and disabled teen-agers, and for which she curated the show and catalogue Perplexe at the Maison de la Vache qui Rit, Lons-le-Saulnier with Blanca Casas-Brullet, Julien Berthier, Benjamin Hochart, Anne-Laure Sacriste, etc. (2011). During the same year, she curated Abstraction & Storytelling I at Marz Gallery in Lisbon, Portugal, with the artists Julien Audebert, Karina Bisch, Nicolas Chardon, Marcelline Delbecq, Maria Loboda, Julien Prévieux and Charlotte Moth in an attempt to revisit abstraction through socio-political or fictional sub-text. In 2012, Joana Neves moved to London to participate in the set up of Marlborough Gallery's contemporary sector (2012 – 2013). She now fully dedicates her time to her researches that lead to exhibitions, articles and texts, in particular about the line as a modernist paradigm, a theme that she has explored since 2009.
She wrote for several publications and catalogues such as the newspaper Público and the magazine Pangloss in Portugal and international publications such as Arte Contexto, Art Review, Frieze, Le Quotidien de l'Art, zerodeux and particularly the magazine about contemporary drawing Roven. Along with its founders and the artist Diogo Pimentão, she co-founded the Roven Platform, a curatorial collective. Roven Platform organises soirées around themes that usually have been developed by the magazine and during which happenings, events, performances and set-ups are carefully choreographed in a given space.
Since 2009, these soirées have been presented in places as diverse as the Museum of Magic in Blois or the School of Fince Arts of Besançon. International artists have accepted the challenge such as Carlos Amorales, Detanico & Lain, Matt Mullican, Didier Rittener, Kilian Rütheman, Teckningsklubben, etc… Along with Johana Carrier, and for Roven Platform, she also organised exhibitions amongst which The Graphic Method and Other lines at the Gennevilliers Art Centre, with Paul Harrison & John Wood, Robert Currie, Helena Almeida, Silvia Bächli, Marine Pagès, Christophe Fink and Davide Balula and also Rituals, Repetitions, Constraints and Temptations in 2015 with Ignasi Aballí, Irma Blank, Frédéric Bruly Bouabré, Pierre Buraglio, Claude Cattelain, Hanne Darboven, dessins tantriques, Marcel van Eeden, Otelo Fabião, Carla Filipe, Henri Jacobs, Julije Knifer, Alexandre Leger, Alison Moffett, Caroline Muheim, Matt Mullican, Morgan O'Hara, João Onofre, Elisa Pône, Laure Prouvost, Reto Pulfer, Didier Rittener and Nil Yalter.
Joana Neves writes regularly for thematic and monographic catalogues.