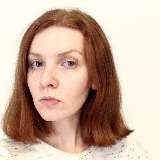 Lesia
Prokopenko (born 1988 in Kiev, Ukraine) is a researcher, writer, and curator.
Since 2013 she has been an invited researcher at the Institute for Public Art,
an independent network initiated by Centre for Public Art, Shanghai University.
In 2016 she took part in the 5th Moscow Curatorial Summer School by V-A-C
Foundation (Moscow), and completed the curatorial residency at the Fire Station
Artists' Studios (Dublin).  Earlier, she worked as the head of projects at
the School of Kyiv — Kyiv Biennial 2015, and as the main project coordinator at
Arsenale 2012 — The First Kyiv Biennial. Lesia Prokopenko translated «The
Manifesto on Xenofeminism» by Laboria Cuboniks into Russian, and has recently
completed the translation of «Les trois écologies» by Félix Guattari. She
presented the talk on her earlier translation of Guattari's essay «Cracks in
the Street» at IASPIS (Stockholm, 2017).  In April 2018, in Kiev, she held
a public talk with Metahaven collective, having earlier worked with them on an
essay-conversation «Imaginary Motherland» (published in Prostory). She
has been selected as a participant of the Curators Workshop at the 10th Berlin
Biennale / BBX Crit Sessions, taking place in September 2018.