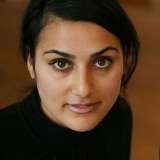 Leyla Fakhr (born in 1979 in Iran, lives and works in London) is an
independent curator and an assistant curator at Tate Britain. In 2009, Nazgol
Ansarinia and Leyla Fakhr received the Abraaj Capital Art Prize. She previously
worked at the Tehran Museum of Contemporary Art and studied in Tehran and
London, where she received an MA in Curating from Goldsmiths College, University
of London, in 2006.