Monteserrat Albores Gleason
Curator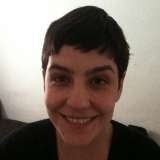 Montserrat Albores
Gleason (born in 1974 in Mexico, lives and works in Mexico and New York) is an
independent curator, writer and contributor for Artforum. She worked on
many exhibition projects for galleries and museums both in Mexico and in the
US. Between 2003 and 2004, she was the director of the OMR Gallery (Mexico
City) where she organised exhibitions dedicated to Thomas Glassford, Carla
Arocha, Cisco Jimenez, and Pablo Vargas Lugo. She also worked for the Rufino Tamayo Museum
(Mexico) and in this context took part in the Young Critics symposium during dOCUMENTA (11) in Kassel (2002). In 2007, she co-founded PETRA, a curatorial and research project in
Mexico City, and recently founded the editorial project Frédéric.