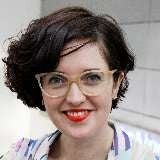 Tessa Giblin is Director of Talbot Rice Gallery at the University of
Edinburgh, a position she assumed in November 2016. Talbot Rice Gallery is the art gallery of the University of
Edinburgh. It is dedicated to furthering curatorial research – with exhibitions
of Lucy Skaer, Jesse Jones and Samson Young in 2018/19 who are given access to
the University's collections and research capacity – but also in the creation
of conceptual group exhibitions, exploring ideas around frontiers in the age of
Brexit, raising the volume on female self-empowerment, and the idea of the
'extended mind' finding its nucleus in contemporary art. With a 19th
century gallery and a contemporary white cube to fuel its engine, Talbot Rice
Gallery is exploring what the University of Edinburgh can contribute to
contemporary art production today. Tessa Giblin is also Commissioner and
Curator of Ireland at the Venice Biennale 2017, with the artist Jesse Jones.
From 2006 – 2016 she was Curator of Visual Arts at Project Arts Centre, Dublin
where she curated and lead the visual arts program within a busy
multi-disciplinary arts centre, consisting of two theatres and a gallery. In 2015
she was Guest Curator of the steirischer herbst festival exhibition, Graz,
Austria, where she presented the group exhibition Hall of
Half-Life over four venues. At Project Arts Centre she curated
numerous solo and group exhibitions, including Riddle of the Burial
Grounds which toured to Extra City Kunsthal, Antwerp in 2016, and made
commissioning new work a hallmark of her exhibitions. Tessa Giblin
now lives and works in Edinburgh with her family. She was raised in
Christchurch, New Zealand, where she attended the Canterbury University School
of Fine Arts, participated in de Appel's Curatorial Training Program in
Amsterdam, and began her curatorial formation through the network of artist-run
spaces across Aotearoa.