Valerio Borgonuovo
Curator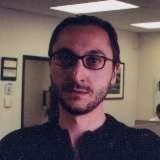 Valerio Borgonuovo is an independent curator and
researcher. After having received a Master's Degree in Conservazione dei Beni
Culturali (Conservation of Cultural Heritage) at Alma Mater Studiorum – University
of Bologna, he obtained a Post-Degree specialization in Art and Culture
Management in 2008 at TSM/Trentino School of Management. His research is
focused on the intersections between culture politics, strategies of artistic
production and visual culture. Since 2009 he has been engaged in the
divulgation, development and curating of initiatives and publishing projects
for public, private and non-profit institutions in art, culture and education,
including SALT Istanbul, the Milan Triennale, and Futura Center for
Contemporary Art, Prague.