Exhibition
L'Avancée / Francisco G. Pinzón Samper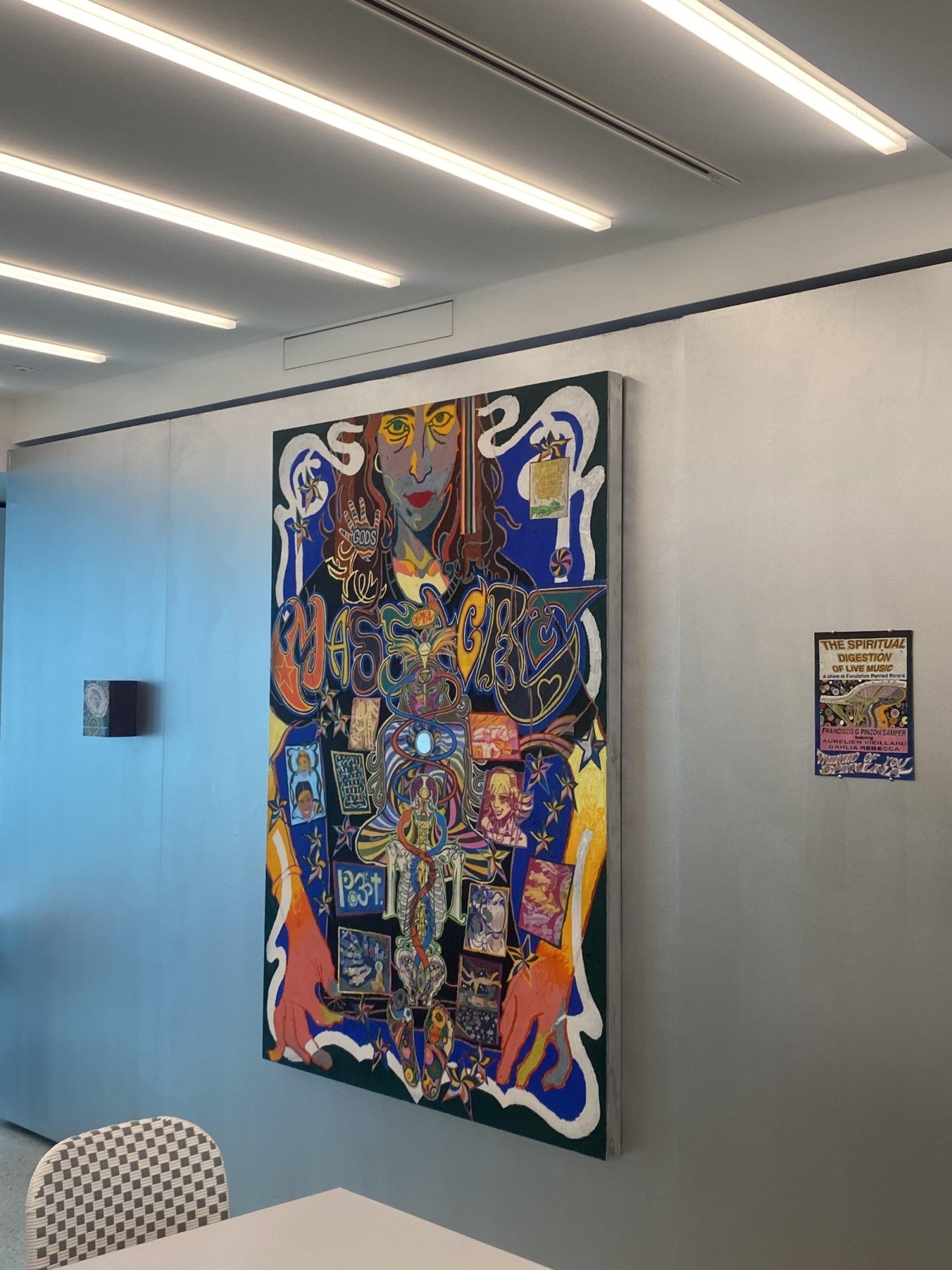 Exhibition
from 1 March to 15 April 2023
L'Avancée is a hanging wall dedicated to emerging artists and a way to extend the exhibition space into the living space. During the year 2022-23, Fondation Pernod Ricard is partnering with the Ecole des Beaux-Arts de Paris and the "exhibition professions" program. Every two months, from October to July, a student is invited to take over the gallery and to accompany his or her display with an exchange with the public.
Francisco G. Pinzón Samper left Bogota at the age of 18 to study in France, first at the Sorbonne, then at the Beaux-Arts, in the studio of Mimosa Echard, where he still works. They describe thelselve as a DJ of images who samples the surrounding world to be able to draw inspiration and create.
Francisco G. Pinzón Samper is attached to the notion of "range", which refers to the set of characters that an actor manages to slip into. In the same way, they incorporate, archives, a large number of images, links them and reinterprets them to reappropriate them. Just as the actor goes from one role to another, the artist plays with the images without hierarchizing them. Their subjects become actors and the background of their paintings are transformed into movie sets.                          
Francisco paints what they truly loves. Their inspirations are multiple and heterogeneous: their interest in Fra Angelico is as sincere as their interest in Emilio Pucci, in the 60's and their acidulous colors, as well as in the more contemporary mangas. Painting, a daily activity, creates a salutary distancing from reality that allows them to immerse themselves in a form of introspection and meditation. Their creations give a glimpse of fragments of intimacy: both portraits of their loved ones and the fruit of their personal contemplations. Just as it is possible to read in cards symbols that refer to our desires, our past and our future, their creations are a range of personal allegories.
For l'Avancée, the artist proposes a composition in three pieces, Talia's shirt, The astral chart of Siddhartha and Untitled. The central element, Talia's shirt, is a portrait of their best friend. Drawing inspiration from rock and metal band t-shirts, Francisco presents their model displaying a t-shirt flourishing with symbols. This iconographic amalgam features both religious and pop images through which they poke fun at the "spiritual-superficial" tension. The resonance between these two terms is located in the importance that one can carry to signs to find comfort there. It also questions this tension through the presence of the drawing of the astral chart of Siddhartha, the first name of Buddha, alongside the painting. If fashion and astrology are sometimes considered in a superficial way, they are also ways of emancipation, of identity affirmation as much as of knowledge of oneself and of others.